8 Tips You Need To Know Before Your Next Eye Exam
Posted July 8, 2014
* Tips You Need to Know When Scheduling Your Next Eye Exam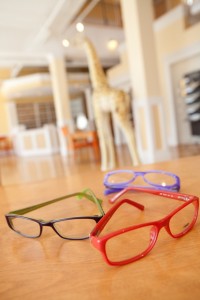 Whether you want clear vision, healthy eyes or just attractive eyewear – this is what to look for in the office that will test your eyes and support your overall eye health.
1. Reputation matters, read reviews
In today's world of on-line reviews, if an eye doctor's office has only a few reviews or worse yet, negative reviews, then you need to think twice about trusting them to care for your eyes. Look for real reviews from real people- in real time. Bonus Tip: See if they have won any Awards – especially if voted for by local people or media sources you trust.
2. Your eye doctor should not keep you waiting
Offices that are more considerate of your time leave room in their daily schedule for emergency visits and don't double book appointments. This built in flexibility with their schedule will ensure your appointment is efficient and your time is respected.
3. Are there services available when you need them?
Look for offices that have more than 1 doctor for the best odds of coverage. Appointments should also be available 6 days a week. The optical boutique should also be open after 5:00 and on Saturday and also during lunch. All those scheduling characteristics indicate an office that puts the needs of the patient first.
4. Ensure variety amongst the eye doctors
It is a sign of a well rounded office to have a varied staff—varied by age, experience, and even gender. It keeps your options open and ensures a comfortable experience for your whole family.
5. Determine what your insurance covers—with help
Surprises about insurance coverage—or lack of coverage– simply should not happen. Even before your first appointment your doctor's office should be able to work with you to determine what is covered by your insurance. The best way to guarantee this is to call the office with your insurance card in hand.
6. Determine the depth of services offered
Your family needs a convenient, full service eye care center. This will keep your care streamlined, consistent, and hassle-free. Look for services and products such as
Eye exams for your entire family
Glasses and sunglasses in many styles, brands, shapes and colors
Contact lenses
Eye disease management
Lasik consultations
Eye emergency appointments
Treatment of dry eye, allergies, infections, and pink eye
Children's vision care
7. Guarantee a great selection of Eyewear (Find more Tips on choosing Eyewear here).
Glasses reflect your look and you want trained, licensed, professional opticians to help you find just the right glasses for your needs. You should feel confident in your glasses and the right style combined with a perfect fit are essential for creating that confidence. Lifestyle, complexion, and face shape should all be part of your choice of frame style.
Individuality is essential and color is cool. An eyewear boutique with a large selection of eyewear and sunglasses is vital. Also, make sure to look for an eyewear warranty -18 months is best – and a money back guarantee. Both should be included at no charge.
8. Is the support staff helpful?
Make sure you choose an eye doctor that has a stellar support staff, who is excited to take care of you and all of your eye health needs. Good opticians will take time to find out what you really need, not just try to put you in a "one size fits all" product. They will ask questions such as: Do you use a monitor, laptop or tablet? And, is it harder to see clearly when reading now? Excellent eye care and eye health is a team effort, and your doctor's office should approach it that way to ensure your needs are optimally met.
The bottom line is this: You deserve an eye doctor that you feel good about and enjoy seeing. You deserve a place in which you are comfortable referring your family & friends based on the care you know they will receive. It's all about service, trust, confidence, and care. Search carefully with these tips in mind then let us know when you are ready to request an appointment.