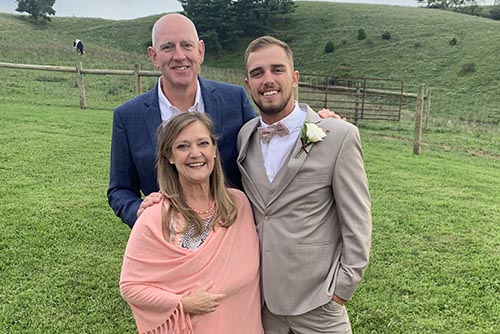 At Invision, Eye Care is a Family Affair
Posted July 31, 2021
Dr. Becky and Dr. Scott Mann are familiar faces around the New River Valley. The husband and wife team met at the University of Alabama-Birmingham, where they were both studying to become optometrists. Now, the pair work together as eye doctors at Invision Eye Care. They've been providing their neighbors with top-tier eye care services for years. Little did they know their partnership would only be the beginning of the Mann family's optometry legacy. 
Roots in the New River Valley
Invision Eye Care has offices in Christiansburg and Salem Virginia, and are always cognizant of their deep roots in the New River Valley. Invision's founder, Dr. Henry Stewart, practiced optometry in downtown Christiansburg for more than four decades! 
When Dr. Stewart retired in 1990, he transferred ownership of his landmark business to Virginia locals Becky and Scott Mann, who still lead Invision today. 
Over the last half-century, Invision has grown from a single location with one staff member, to a booming practice with two state-of-the-art offices, four optometrists and 20 staff members. Despite these changes, Invision strives to remain the New River Valley's friendly, reliable neighborhood optometrist, and is proud to call the region home.
A Family Tradition 
The Mann family tradition at Invision Eye Care took root decades ago. Now, the next generation aspires to carry on his parents' legacy. As detailed in a recent NRV News article, Will Mann will start classes at his parents' alma mater this fall, and is hoping to become an optometrist too. 
Becky and Scott Mann said they never pressured their children to pursue the field, but Will discovered a passion for optometry on his own. When he was 18, he participated in a mission trip to Nicaragua, where he worked with a small medical team to provide eye exams and glasses to locals who lacked access to medical care. He said that watching children see with 20/20 vision for the first time was a special experience.
Will is also excited about the constant technological advancements in optometry. The University of Alabama-Birmingham is renowned for its focus on cutting-edge technology, and Will sees an opportunity in optometry to study and work with these new tools.
According to NRV News, when Will moves to Birmingham this summer, he'll be living on the same block where his parents originally met. 
Offering Top-Tier Care
Whether patients at Invision are served by a member of the Mann family (present or future), or another one of the practice's skilled optometrists, they can be confident that they'll receive the best possible care.
That's because at Invision, the team doesn't see patients as clients, but as friends, neighbors and family. Invision's goal is to know every patient by name, so that patients feel as much a part of the Invision community as the staff feels a part of the broader NRV community.
At Invision, our staff strives to respect your time by streamlining processes like New Patient Paperwork while maintaining patient-first care. So far, it seems our efforts are paying off! Since 2012, the Invision team has received more than 30 awards, including "Best Eye Care Practice" and "Best Bedside Manner." 
So if you've been waiting to schedule your annual eye exam or have any other lingering concerns about your eyesight, be sure to set up an appointment. We'd love to see you soon!