Eye Exams
Adult Eye Exams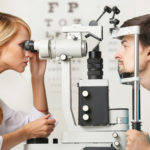 Eye health is a key part of maintaining overall health & wellness, which includes scheduling your annual eye exam. If you wear contacts or eyeglasses, checking your prescription annually is necessary in order to maintain optimal vision. Even if your vision is crystal clear, regular eye exams can catch early symptoms of eye diseases, developing vision problems, and other unusual symptoms. Remember: the eye is an organ, and like all our organs, is ever-changing. Vision problems can develop at all stages of life, and scheduling regular exams can help catch any changes to your sight and maintain good eye health.
We welcome and invite you to give us a try! We are committed to providing an excellent experience for every patient that walks through our doors. And if you love us, be sure to refer your friends and family as well; deepening our roots in the New River Valley is our continuous goal.
Kid Eye Exams
We love kids! And we are happy to provide kid's eye exams for your little ones. Scheduling eye exams for your children should be as high a priority as general wellness check-ups.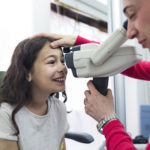 While pediatricians provide an important base level eye screening designed to detect gross eye abnormalities, the American Optometric Association recommends the first eye assessment at 6 months of age–when visual abilities are fully functioning–and encourages another eye exam by age 4. The summer prior to kindergarten is an ideal for your child's first visit if they have never had an eye exam.
Many eye conditions have symptoms only identifiable by an eye doctor, that would be missed by parents or a general wellness checkup. Optometrists test for excessive or unequal amounts of nearsightedness, farsightedness, or astigmatism; developing eye movement; and eye health concerns. We also test for depth perception and color vision–tests usually only done at an eye doctor's office. Problems that occur in vision development and eye health are easier to correct if treatment begins early.   
All our doctors and most of our staff have children and are experienced in examining children. They will work with you and your child to ensure your little one has a positive, comfortable, and fun experience.

Senior Eye Exams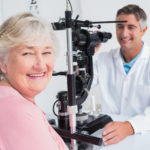 Senior eye exams are especially important, given that many eye diseases, symptoms, and vision problems occur as a result of aging. Early detection is crucial for ensuring longevity of sight. Further, symptoms of other diseases–such as diabetes, high cholesterol, and hypertension–can appear in eyes as well. When found, your optometrist can direct you to additional medical practitioners for further examination. Scheduling annual eye exams adds another line of defense between you and potentially life-threatening conditions. Protecting your vision keeps you and loved ones safer when driving. Clear vision and healthy eyes also promote a more active and independent lifestyle.
We are committed to ensuring you and your family have clear vision & healthy eyes, across all seasons of life. Don't believe us? With over 1000 reviews for both Christiansburg and Salem, our current patients speak for us!