Meet Lecia | The Eyewear Fashionista!
Posted September 12, 2014
Our story is best told through the eyes of our patients….
Meet Lecia, the Eyewear Fashionista!
If you speak with Lecia Smith for any length of time you will quickly realize she is a woman with a huge heart. She spends the majority of her time traveling to support causes near and dear to her heart, such as childhood Leukemia and education, to name two. She has also been honored as the "Distinguished Citizen of the Year" by the Buckskin Council of the Boy Scouts of America. Lecia describes herself as an "all-American average citizen." She follows it up with "I'm pretty intense about things I believe in while simultaneously being pretty down to earth." Lecia is also one of the biggest eyewear fashionistas we know.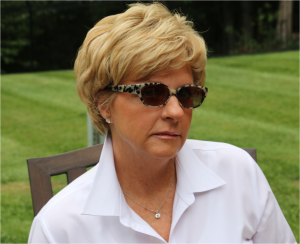 Some women have a thing for purses, others have a thing for shoes, but for Lecia Smith it is all about the perfect pair of frames! Her love for glasses started when she hit her early 40's and developed a need for glasses. She tried contacts but never could find a pair that was comfortable for her eyes. That was okay with Lecia though, she quickly realized the amazing amount of fashion versatility that comes with prescription glasses and sunglasses. "I think they can be very beautiful and fun, especially sunglasses. I love shopping for them and I love all the different brands," says Lecia. She currently has a total of 10 prescription sunglasses, 5 vision glasses, and 2 pair of reading glasses.
Are you curious to know this fashionista's favorite brands? Her current go-to for sunnies is Kate Spade, but like most fashion trends she knows that may change. For now though, she loves the ultra-feminine detail the Kate Spade line offers. She is also a huge fan of LaFont reading glasses. And when it comes to reading glasses Lecia has one word for you: Fun. "They are real fun; I think reading glasses need to be fun to show the wacky side of your personality in your reading glasses," she explains.
Not only does Lecia have the inside scoop on the brands that deliver, she also knows that sunglasses and glasses cannot be considered a "one size fits all" accessory when it comes to function. Lecia points out, "you need your fashion glasses but also your sports glasses. You don't want to wear your fashion glasses while you are on your bicycle, for that you need more utilitarian ones. "
Speaking of cycling, Lecia and her husband just took up that hobby and find themselves regularly biking around water, which led to the realization that it was time to explore polarized lenses. "I needed a pair that was polarized to help cut the glare from the water—Maui Jims. They are a sportier style but they are stable on my face."
For Lecia glasses are also way to accessorize at special events. She knows that her frames can't be an afterthought, they are one of the first things people will see when taking in her whole look and forming an impression. "I go to the Kentucky Derby so I always need to have the perfect pair of sunglasses to go with the hat and dress," she explains. And much like the hats at the Kentucky Derby, "big sunglasses are still in, the bigger the better," says Lecia.
So how did Invision get so lucky as to have this fabulous fashionista as one of our very own patients? As Lecia explains, "I saw a friend who had on a great pair of glasses and asked her where she got them, she said Invision and that they had all the great designers. She was right. I am very impressed with Invision's variety of styles and their variety of designers. Also, I have confidence in Invision's ability to take care of my eyes and my eye sight. They are really a pleasure to work with."
Lecia: Thank you for allowing us to enjoy your frame fashion with you! We love your zest for life and flare for frames—you are always a joy to work with!