An Optometry Love Story
Posted February 15, 2017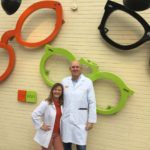 When Scott Mann started Optometry school at the University of Alabama-Birmingham he expected the studies would be hard. He also expected he would learn a tremendous amount about the human eye and how to provide top-notch eye care. However, he never expected he would also meet his wife and future business partner.
At the University of Alabama-Birmingham, each class of optometry students was small, 40 students and only two from Virginia. Since Scott's class was the newest, the class above made sure to give them a warm welcome. It was at a small welcoming party that Becky and Scott first met. Becky purposely sought out Scott, as a fellow Virginia-student. She was one year ahead of him and school and wanted to extend a warm welcome.
Becky recalls, "He was sitting down when I introduced myself. I offered him my class notes, future rides back to Virginia and even my washing machine." Within a few days Scott was ready to take Becky up on the offer to share her washing machine. He arrived to her home with his dirty laundry in hand. Becky said, "I remember opening the door, first being startled by his height, then knowing it was love at second sight." That was the first moment Becky was sure there was something special about Scott. She points out that, "Thereafter and up to today, I find more reasons confirming that he is the one."
Their relationship was discreet while they attended school, as studies were demanding and the expectation of professionalism was rigorous. Scott recalls, "All our friends knew we were 'an item' but professors and others at optometry school were surprised to find out later."
Their love story continued through optometry school and on November 7, 1987 Scott and Becky said, "I do" and became united as husband and wife. They had a midday church wedding in Becky's hometown of Radford, Virginia. Becky said, "I'm a 3rd generation Radford girl with tons of relative close by so that made for a pretty big wedding with about half the guest being blood kin in some way."
In 1990 Drs. Scott and Becky Mann took their relationship to the next level and became not just husband and wife, but also business partners. Their local roots made the decision to acquire an Optometry practice in Christiansburg, a logical one.
Some may be curious about what it is like to work side-by-side with your spouse, each and every day. For Scott and Becky they have worked out how to do this successfully and with joy. Scott describes the value in their partnership, "We understand exactly what is going on in the workplace with the other person, we speak the same language whether its business situations or clinical conditions and patient care." Becky shared similar sentiments, "Invision is like another one of our babies; together we enjoy nurturing it, correcting it, it correcting us and then seeing it succeed bit by bit."
They have also established boundaries to ensure that their work-life doesn't create unhealthy balance in their home-life. ​For starters, they take turns wearing "the white coat" in the Christiansburg office. They do not treat patients the same day; they take turns throughout the week. Becky shared another boundary they have in place, "We block out one hour for 'business talk' and the remaining 23 hours of the day are just being married folk."
It is amazing to see how Becky and Scott support, love, and enjoy each other each and every day. Not only have the built a well-established eyecare practice but they have also bit a beautiful family. They are a family of five, with three young adult sons. Their family is great at laughing together and has a shared sense of adventure. They enjoy hanging out at Claytor lake, traveling, and sailing. They find that some of their best moments are sitting around their dining room table, chatting about every day life and enjoying a meal together. As Becky described, "We are a loving, harmonious family who knows we are knitted together by God's hand and his grace."
Scott is quick to mention his love for Becky's sense of humor and thirst for adventure. He also admires her dedication to patients and people-oriented approach as an optometrist. Becky sums it up succinctly, "I'm a very lucky girl." Their mutual love, admiration, and respect for each other as people, spouses, doctors, and business partners is evident from both their words and actions. The strength of their relationships is a fundamental aspect of the strength of the Invision team.