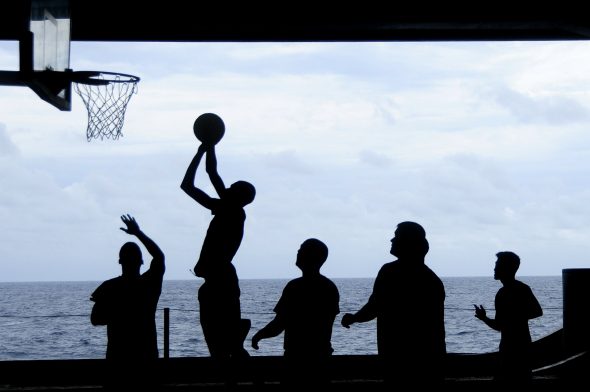 Sports Vision: Keeping Your Eyes Safe While You Compete
Posted June 30, 2021
Nobody would argue about the importance of wearing the proper equipment when playing sports. Athletes suit up in uniforms, pads, gloves, and helmets without a second thought. However, one aspect of sports safety that is often overlooked is eye protection. Sports vision considerations range from preventing eye injuries during a game, to making sure you're seeing clearly before you take the court. Eyes are an important tool in playing your best game! Optometrists, like those at Invision Eye Care, can help athletes make smart decisions regarding their vision. 
Eye Injuries Are Common
Nearly 30,000 sports-related eye injuries are treated in U.S. emergency rooms each year. But 90% of those injuries could have been avoided with the proper eyewear. Most eye injuries are sustained while playing basketball. Even professional athletes are susceptible to injury. In fact, eye injuries cost the NBA $2.4 million in a single season. 
It's not only basketball players who should consider sports vision advice, though. Wearing safety glasses helps protect your eyes from debris, impact, sharp objects and even UV rays. These dangers are present during a variety of recreational activities. So, you should consider buying and wearing safety goggles whether you play baseball, hockey, football or tennis. Different circumstances may call for slightly different equipment, but there are some elements that all safety glasses should have.
Pick The Right Protection
Contrary to popular belief, even if you already wear eyeglasses to improve your sight, your eyes won't be safe from common sports-related dangers. In fact, people who wear glasses may be more prone to injury because impact could shatter the lenses and send pieces straight into your eyes.
Sports vision glasses are specially-made to protect your eyes during recreational activities. When shopping for a pair of safety glasses, it's best to consult your optometrist if you're unsure what to look for. But here are a few key features any pair should have:
Avoiding and Assessing Injuries 
Prevention is the best medicine when it comes to eye injuries. Ideally, athletes would avoid injury altogether. Ensuring that your vision is the best it can be prior to playing sports is a good preventative tactic. According to the American Optometric Association, "Athletes who do not properly address vision impairments will not perform adequately," and may not be able to participate safely at all. 
So don't skip your annual eye exam! Once you're seeing clearly and on the court, well-fitting safety glasses are your best defense against injuries. Glasses that don't fit or aren't well-suited to the sport you're playing can do more harm than good. Of course, even when all the proper precautions are taken, accidents still happen. If you do suffer an eye injury during a sporting event, seek treatment immediately, even if it seems minor. Visual tests can help diagnose concussions, and early detection of traumatic eye or brain injuries may minimize long-term damage. 
If you're gearing up for an upcoming sports season, flag football game or day at the paintball field, consider making an appointment with your eye doctor first. They're trained to help you keep your eyes safe and healthy, so you can keep having fun!