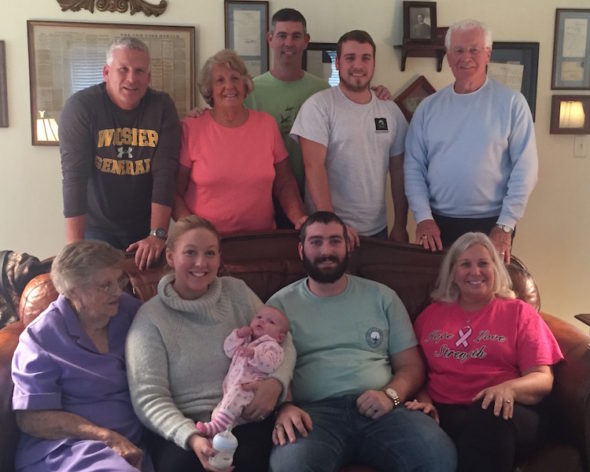 Caring for Generations of the Huffman Family
Posted December 20, 2016
Our company is one with a rich history. The original practice, complete with old-fashioned green leather chairs, was founded in 1958 in Christiansburg. In 1990 Drs. Becky and Mann acquired it and a new generation of that practice was born, ultimately named Invision. In the 1990s Invision also acquired Dr. Eugene Bane's Salem-based practice, allowing Invision to grow both in service area and size. Dr. Bane, who is a wonderful man, worked in the practice for roughly 30 years and officially retired about 10 years ago.
Over the years we have had the pleasure of growing as a company but we've also had the pleasure of watching our patients grow. In fact, in many ways our history as a company is intertwined with our patients' histories. For the Huffman family, this is especially true. The Invision team has been fortunate to care for four generations of the Huffman family, which has grown into the Huffman-Bradley-Roberts family over time.
It started back when Dr. Bane was still at the Salem office. Luther Jr. and Carolyn Huffman were patients of Dr. Bane first and then started taking their children, one of which was Shelly. A couple years later, Luther Sr. and his wife Polly became patients as well.  Dr. Mann said, "I met the Huffman family in my early years as an optometrist, over 20 years ago. Since then, our team of doctors has seen each successive generation." When Luther Jr. was born, he also became an Invision patient, joined by his wife, Carolyn. Luther Jr. and Carolyn had children who too became Invision patients. One of those children, Shelly, grew up, got married and now her husband, and grown children are patients as well.
Four generations of Huffman's have trusted their eye care to the Invision team of doctors. Dr. Scott explained, "When you see a patient as a child then years later are fortunate enough to see their child it is humbling and an honor. Kids, parents, grandparents and great-grandparents, four generations in all, it's just amazing." Shelly can also recall what it was like to see Dr. Bane as a child and then transition to care under Dr. Mann and the other Invision optometrists:
Dr. Bane was so kind and patient with me and took care of my eyesight from a really young age. I remember him so fondly and he made having glasses a "cool" thing. Dr. Bane's staff was always so friendly and helpful and Dr. Mann has only continued to make Invision even better.
Shelly and John have recently welcomed a granddaughter to the family, and have a grandson on the way. There are now five living generations in the Huffman family! Can you imagine how special this Christmas will be, to have that amount of history, tradition, and love gathered together?
The Huffman family is a great one. Over the years, they have started to feel like an extension of the Invision family. It's exciting to learn that the feeling is mutual, Shelly told us, "Both of my sons have loved getting to know Dr. Mann, he treats them as if they are part of his family." Our team has always been struck by the kindness of the Huffman family, which has transcended all generations. To know and care for five generations of Huffman's is a gift.