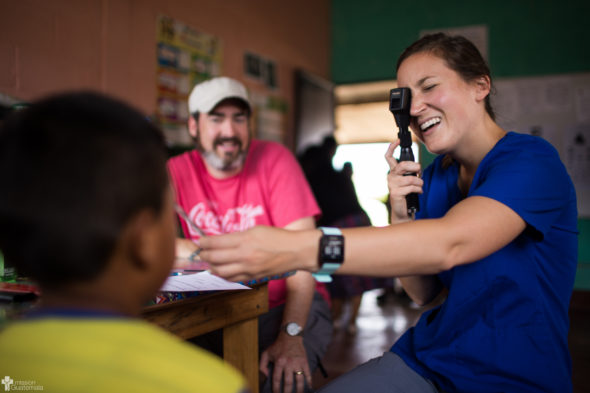 Meet Dr. Courtney Melchione
Posted January 28, 2019
If you've visited our Salem office in the new year, you may have seen a new face. We're thrilled to introduce Dr. Courtney Melchione, who is joining the staff of Invision Salem for the next few months!
Courtney met Dr. Scott Mann at a Virginia Optometric Association meeting after graduating from Southern College of Optometry. After moving back to the area, the doctors at Invision heard she was looking for part time work, and offered her a position at Invision Salem!  
This isn't the first time we've written about Courtney. In 2016, we featured Dr. Melchione before she embarked upon an incredible two year journey providing eye care in Guatemala.
At the Guatemala Eye Clinic, Courtney served as the sole staff member, caring for every patient from start to finish, through exams, glasses selection, and paperwork. The clinic served patients for a $2.00 USD fee; their policy, however, is to never turn anyone away. The clinic, as Courtney explained it, aims "to restore dignity to patients who have not had basic needs met."
"Throughout my time working in Guatemala, I was increasingly made aware of how great the need is for accessible and affordable eye care," Courtney said. "I had patients who traveled twelve hours to get to our clinic. I was also incredibly humbled to see how hard people worked and made due with the resources available to them. As a whole, my patients at the the clinic were the most generous, kind, and patient people I have known."
Those two years were fulfilling in both expected and surprising ways, and reminded Courtney how she valued her relationships back home. "I missed my family and friends while I was living in Guatemala," she said. "I've been moving around, living in different places for the last ten years, and I always wished I could have everyone I love in one place. I had wonderful community in Guatemala, but the best was when friends and family came to visit me there."
Her work in Guatemala is really a reflection of why she became an optometrist. "Comfortable and clear vision is a gift that many people take for granted. Vision problems create many challenges in daily life," she said. "I am thankful to be a part of helping people achieve their best vision to live their best lives."  
Courtney has now returned to Virginia, and is excited to be back in familiar territory. "I grew up in Lexington, VA, about an hour away and I did an externship during optometry school at the VA hospital in Salem," she said. "I've always loved this area and I'm happy to be practicing a little closer to home."
Courtney hopes to specialize in speciality contact lenses and anterior segment disease (diseases that impact the front third of the eye, including the lens, iris, and cornea.) "Specialty contact lenses are generally able to improve the vision of patients with corneal disease much more effectively than glasses, many times restoring their vision to a functional and comfortable level," she explained. While gaining further experience and helping our practices, she'll be applying to residencies in order to pursue her goal.
While she'll be with us for only a short period of time–through April, before she's off to her next adventure–we're absolutely thrilled to have her her in our Salem office! Be sure to say "hi" to Dr. Melchione during your next visit, and help us in making her feel at home at Invision!
Image provided by Mission Guatemala.