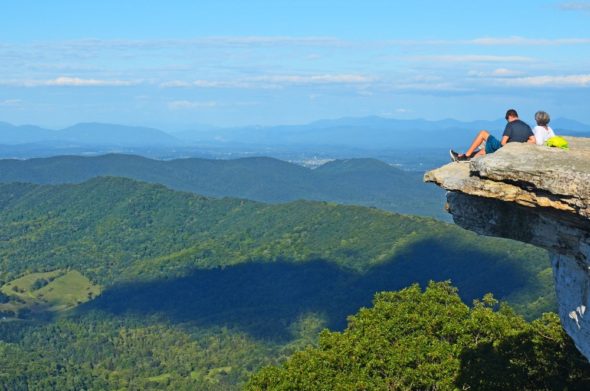 Home Sweet Home
Posted September 20, 2017
Home – the place where one lives, especially as a member of a family. That is what our clients are to us – family. Our roots are local and deep, we are all part of a far-reaching family in the New River Valley and the Roanoke Valley.
So, what makes our home so great? We could boast that Christiansburg/Blacksburg metro has been named the "#1 Best City to Raise a Family" and as one of the "Happiest Cities in Virginia" . Roanoke was named one of the "25 Cities That Millennials Can Afford – and Actually Want to Live in" (that was a mouthful, but true!).  But, we thought it would be better to ask the people who help you every day – our staff!
Courtney Williams, CPOA, of our Christiansburg office, said, "Christiansburg is growing! It still feels like a small town, even when you suddenly add 50,000 Hokie fans 5 miles away." She added, "I hope to see more restaurants downtown and I love the new events like the Wilderness Festival and the Food Truck Rodeo." Because of the beauty that surrounds our hometown, we love being outdoors – from hiking, swimming, fishing and running – it is an open-air paradise.
Mary Crouch, Optician at our Salem location, stated, "I'm Salem-born and Salem-bred, and when I die, I'll be Salem-dead! The Salem fight song never fails to thrill me!" (Are you fellow "Salemites" singing along?) Mary also detailed the feeling that "home" gives her, "What I find most comforting about my hometown is when I come back after being away, the green, rolling mountains surrounding the city serve as a big welcome home hug." The stunning natural beauty of the Blue Ridge Mountains is such a unique feature of our region.
It's home to us, too. You may run into one of our staff members while hiking McAfee's Knob, at a Virginia Tech football game, or at the Farmer's Market. As Mary described, we are surrounded by the Blue Ridge Mountains and one of the most beautiful times of year is coming up – fall! As the leaves change to their beautiful red, orange and yellow hues, we love driving on the Blue Ridge Parkway to see them in all their glory. (A true sight to see – and you may see it better after an appointment with us.)
As Courtney mentioned, festivals (like FloydFest) and food trucks are becoming more prevalent as our area grows. Who wouldn't want to eat an all American grilled cheese (hello, Toasted by Casey!) while listening to great music?! Sign us up!
For a more relaxed experience, enjoy a float down the New River with a group of friends, we love it in the summer! Or head down to Salem's Farmer's Market and find fresh ingredients to make a farm-to-table meal. Whatever it is you want to do, we have it here and more!
We love it here, and we know you do, too.
Come by and see us sometime, you can even schedule your appointment online.