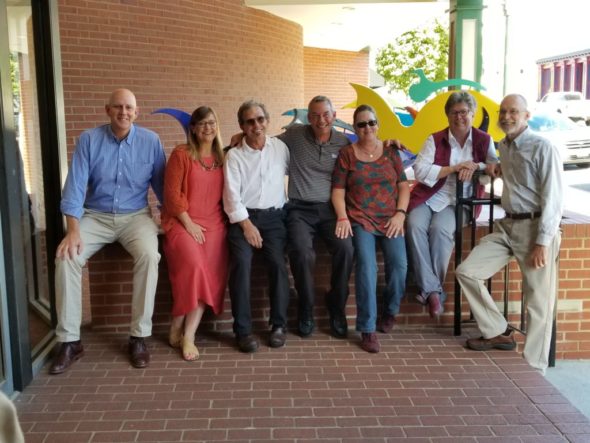 Happy Fish Unveiling
Posted October 27, 2017
Here at Invision, one thing we love to see is happy faces. So, can you imagine our delight when five, "Happy Fish" sculptures were placed outside our offices–with the promise to spread joy to all that pass? On October 18, we celebrated the unveiling of these sculptures with the local community and the masterminds behind this community art project.
The Happy Fish project was the combined vision of Jay and Becci Nagle of New River Engraving, Bob and Annette Poff of Valley-Wide Management and our very own Dr. Becky Mann and Dr. Scott of Invision. This team commissioned these custom, metal fish sculptures in collaboration with well-known and local artist, Dave Wertz.
Does the name Dave Wertz sound familiar? It should! He is the same guy who created the three iconic, metal eyeglasses that adorn the side of Old Town Mall, right outside our office! Wertz also has work displayed in the Roanoke Center in the Square.
Having worked with Dave before, Dr. Mann knew he was the right person for the job. The Happy Fish sculpture idea came directly from Dave. The three local business leaders trusted Wertz's vision and direction with this project.
We're not kidding when we say these sculptures are larger than life. As you walk by, the first thing you notice is that each one of the five sculptures is between five and seven feet in length! Their fun, bright colors make them almost impossible to miss and guaranteed to make each person who views them smile, which was a shared goal between all three couples and the artist.
Dr. Scott Mann said "This sculpture will add interest to Main street and hopefully make people of all ages smile!" These fish provide a great photo opportunity in a part of town that's just now developing its public arts.
Bob Poff gave his opening remarks to a crowd of excited faces to begin the ceremony. Then, the three couples and Wertz gathered around the sculptures to reveal the Happy Fish. Once the fish were unveiled, Dave, the artist, shared the joy he felt while working on the project. Even the Mayor of Christiansburg, Mike Barber, spoke about his plans for the future of downtown. This collaborative effort represents a step towards supporting the Town of Christiansburg's vision for a more engaging experience.
We hope this inspires other local businesses to think of ways to give those who live, shop and work downtown a visually pleasing experience. Scott Mann said "The number of people who live or work downtown has dramatically increased in the last few years. With that in mind, we see downtown Christiansburg as a thriving area with even greater potential."
If you haven't had a chance to see these fantastic fish yet, take a look at our photo gallery below of the big day. We encourage you to take a walk downtown to visit these sculptures in person because a photo cannot capture the true personalities of these joyful fish.