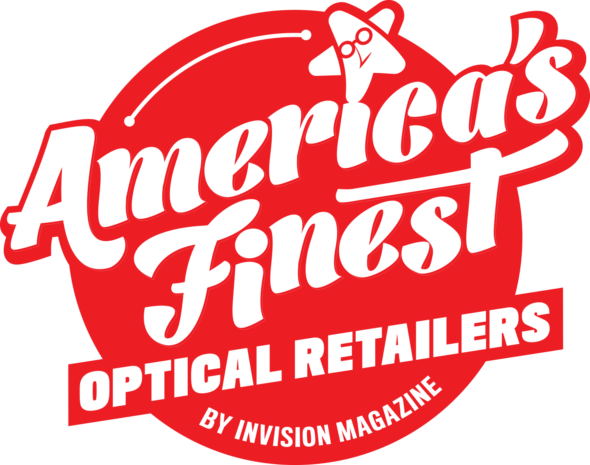 Invision Wins National Recognition
Posted July 25, 2016
It has been said, "If your dreams don't scare you they're not big enough." We could relate to that saying when we decided to enter a national contest recognizing the best independent eyecare practices and retailers in North America. We knew the chances of winning were small but we also felt confident in who we are and our supportive community that allows us to thrive. After all, a large part of our entry form was describing how we are shaped and supported by our local community.
Much to our delight we were notified that we were selected as part of this national recognition as an honorable mention—which means we will be featured in an upcoming issue of INVISION Magazine (it's a cool coincidence of a name—no affiliation to us)
Three optical practices were chosen as the top winners and an additional nine were distinguished as Honorable Mentions, in this nation-wide contest. All entries were judged by a panel of optical retail experts on six categories: story, exterior appearance, interior appearance, advertising and marketing, store website and overall individuality.
"Every year we feel privileged to bring our readers the best of the best in our industry," said Ralf Kircher, INVISION's executive editor. "Winning stores often have amazing product lineups and are impressive to look at. But a store wouldn't really fit our 'cool' criteria if it weren't for such aspects as innovative marketing, creative retail environment and a unique work culture."
Our nomination focused heavily on the intentional incorporation of local art into the décor and brand image and as a means of supporting local business. If you've driven by our Christiansburg location then you've seen the larger-than-life sculptures of iconic eyewear that adorn our storefront. These custom sculptures, weighing about 100 pounds each, were crafted by Roanoke artist Dave Wertz. If you step inside you will see paintings from Jeanine O'Neill, which feature funky frames and vibrant colors. Jeanine is based out of Floyd where she paints and also has a clothing boutique. As Dr. Scott Mann explained, "This award not only honors our practice but also the local artists that help tell our story through the meaningful pieces they have created on our behalf."
Invision's story was also a component of the award. Drs. Becky and Scott Mann, our husband and wife leaders, met in optometry school and now manage the practice alongside Dr. Jon Gudeman in the Salem location. They've also grown a team that feels more like family than staff. Dr. Mann emphasized, "This award is also a credit to our friendly and professional staff."
In our submission we shared how we strive to serve others. This certainly includes the wonderful patients we see each and every day. It also includes serving others in less fortunate areas of the world. For example, various staff members and doctors have gone on mission trips with the goal of providing eye care, glasses, and most importantly, hope. Our team has a heart for others and service is a big component of who we are.
This award would also not have been possible without our awesome and interactive patients and friends. Social media presence was a specific evaluation criterion in this process. We described the fun and meaningful ways we've interacted with you all over social, to include our holiday "Give the Gift of Sight" contest and getting Facebook input for patients that needed help picking frames.
As part of our recognition we will be featured in an INVISION Magazine profile between now and June 2017. We look forward to this feature and will make sure to share it will all of you—as you are a huge part of why we received this recognition. From our entire team we want to sincerely thank you for being America's Finest patients and friends! Cheers—this one's for you!