You've Done It Again!
Posted June 5, 2015
Our patients are the best. Time and time again you prove it. Well, you've done it again! Thanks to you we were just given multiple significant awards because of your votes and support.
Through The Roanoke Times "Best of" contest our patients honored us with the following distinctions:
Best of NRV: "Best Customer Service" (Gold)
Best of SoSalem: "Best Customer Service" (Silver)
Best of SoSalem: "Best thing not on this list" Dr. Jon Gudeman (Silver)
Through The Roanoker Magazine we were distinguished with the following awards:
"Best Eye Care/Optometrist Services" (Gold)
"Best Optical Shop" (Platinum)
Your affirmation, that we are hitting the mark when it comes to customer service, is the best compliment we could hope for. It is our mission to provide each patient with the personal and attentive care they deserve. Dr. Scott Mann describes it as applying "The Golden Rule" to all that we do, "Our goal is to provide our patients with the best care and service possible by treating people the way we want to be treated." Since you were so kind to honor us with these awards we want to return the kindness and honor you during a weeklong patient celebration!
If you stop by either Invision location during the week of June 8th you can expect to be greeted by tasty cupcakes from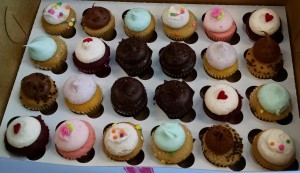 Mockingbird Café in Christiansburg or Bubblecake in Roanoke. Come see us, enjoy a sweet treat, and know we appreciate each and every one of you. From the young to the old(er), the fashionistas and athletes to the business executives and everyone in between—you let us be part of your eye care and your quest for eye fashion. And for that, we simply can't thank you enough.
Cheers—to the best patients around!