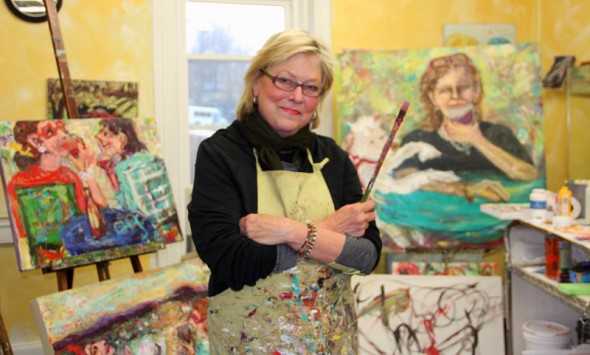 The Art of Eyewear
Posted March 10, 2015
If you have been to our Christiansburg Invision office then you have seen the beautiful, modern, and vibrant artwork of Jeanie O'Neill. Her paintings are known far beyond our region but we are lucky to have her as part of our local community. We are even luckier to have her as an Invision patient.
We were curious about how Jeanie incorporates the world around her into her paintings. Jeanie explained to us, "I find inspiration by just looking at people. I tend to make observations of people and how they dress, their accessories. So, I take those things that stand out to me and I exaggerate them – not as a caricature – but an interpretation of their personality on some level." That conveys if you look at any of her work. Her use of color, texture, and choice of subject matter creates movement and life.
The subjects of many of Jeanie's paintings wear interesting accessories, to include eyewear. Of course this is one of our favorite components of her pieces. Jeanie points out, "as far as my actual work is concerned, it goes back to the idea of re-exaggerating with accessories. A painting can become so much more interesting when you include eyewear." We agree! The use of glasses in her paintings creates a level of depth to her art that we can't get enough of.
We love that Jeanie sees eyewear as art. Jeanie shares our perspective and has quite a flair for frame fashion, she explains, "I tend to prefer frames that are different – and they have to be lightweight and comfortable. Eyewear is a personal choice. For some, they're just a pair of glasses. For others, myself included, they're a piece of jewelry." We share these same sentiments and hope all our patients do as well—glasses are jewelry, an accessory, and a statement piece. They are a way to convey your personal style and make a first impression, rather than just serve a function.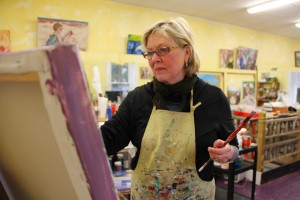 Not only does Jeanie incorporate eyewear into her paintings but they are part of her daily life. "As someone who relies on eyewear, I would have to say that eyewear simply makes my world more real. It enables me to fully utilize the colors and textures that are so important to my art," said Jeanie. Clear vision is key for seeing the details and intricacies of the world that surrounds us all.
Jeanie, thank you for sharing the beauty of your art with Invision. We are thankful to have your masterpieces in our offices and are especially thankful to have you as one of our patients!