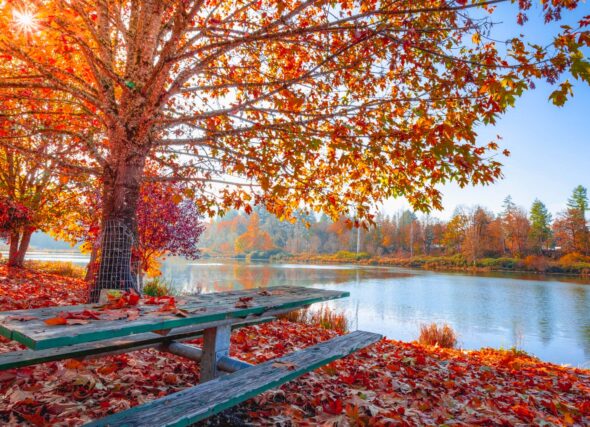 Leaf Peeping in the New River Valley
Posted October 26, 2020
Autumn has settled upon us! These chilled temperatures are leaving the trees of the New River Valley awash in reds, oranges, and yellows. Healthy vision is such a blessing and it is an even greater one when surrounded by such beautiful landscapes. This autumn, make some amazing memories with your family and try leaf peeping!
What is Leaf Peeping?
Leaf peeping is an informal term in the United States for viewing and photographing fall foliage. Organized excursions are known as foliage tours or color tours. Changes in elevation in the New River Valley tend to create peak fall colors from mid to late October. If you and your family have never experienced this stunning nature hobby, it's a great year to start! Enjoy the fresh, clean air along with all of these Virginia colors!
Best Peeping Destinations
The New River Valley is the perfect area to begin your leaf peeping adventure. Our gorgeous forests are criss-crossed by trails and dotted with lakes and well-maintained parks. Whatever your preferred method of viewing autumn splendor, we have something for everyone.
Trails and Parks
For hikers, walkers, and bikers, NRV trails wind through miles of flame-colored trees. Centered around the Appalachian Trail, there is no end to parks to visit and mountains your family should try, including:
Sentinel Point and Mill Creek Falls

Falls Ridge Preserve

New River Trail State Park

Mountain Lake Conservancy

Claytor Lake State Park
Enjoy Long Family Drives?
If you are willing to invest your gas and time, there are some stunning views available from the comfort of your vehicle. Pack up the family, grab some snacks, and choose any of the nearby drives listed below. Virginia is home to gorgeous highways that wind through lush valleys and brilliant fall foliage. Rediscover the thrill of the open road!
Blue Ridge Parkway (wherever you drive on the Parkway, you are sure to see some amazing views. You can't miss "America's Favorite Drive", especially with this

handy interactive map

.) 

US Route 11 (Salem to Christiansburg)

US Route 221 (Roanoke to Floyd)

Virginia State Route 311 (Salem to New Castle)

US Route 460 (Blacksburg to Roanoke)
Family Tip From Your Eye Doctor
Playing in the leaves is a must for the entire family! Capture all the happy moments and make sure to tumble about in those glorious colors. Just remember that dust and leaf bits can cause irritation and sometimes damage your eyes. Allergies can also put a damper on the fun, so it's important to be informed about how to avoid eye damage and discomfort this fall.
Taking a step away from computer screens and other electronic devices gives your eyes a chance to relax and diminishes eyestrain. Get a break from the blue light and let your eyes enjoy the distant trees and joyful faces of your family. And don't forget your glasses! 
As always, our team is here for you at either of our Christiansburg or Salem locations.