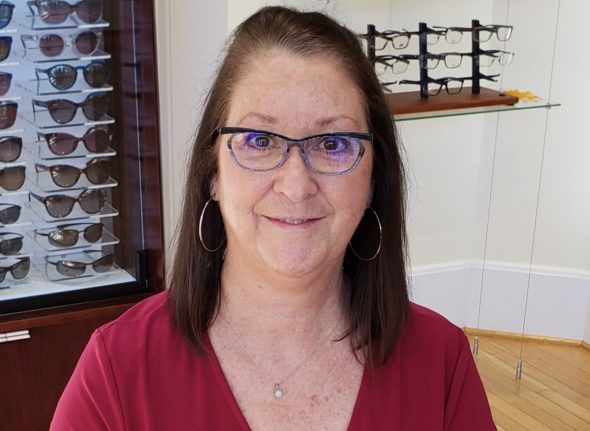 Staff Spotlight: Meet Dee
Posted November 9, 2018
If you want to know how Invision stays so bright on even the cloudiest days, look no further than our optician, Dee!
Dee started at Invision Christiansburg on July 9th, 2001 (props to her for remembering her precise workiversary!), but has been working as an optician since 1976. "I've been doing this for a very long time," she said. "It's in my blood!"
Being an optician is more than just pulling a pair of glasses from a shelf. "You have to be a stylist and a perfectionist," Dee explained. "You are in charge of reading an Rx…and finding out what the patient does for a living as well as recreation. Do they need one pair of glasses, or do they need multiple pairs for their activities? Making sure all measurements are correct, too."
And when the process is all finished? "There is always a final inspection of a completed pair of glasses.  If it's not something we would wear, or let our family wear, then it doesn't get passed," Dee said. "We have very high standards here at Invision."

Even with those expectations, Dee and the other opticians are given the freedom to do what's best for each and every patient. "Yes there is protocol, but if I need to make a decision in changing frames, redoing a lens, maybe sometimes giving a frame to someone in need, I have that! Invision has allowed me to work as if this were my business." This allows Dee and the rest of our team to make every patient's experience the best it can be, and helps them support everyone's individual and unique needs.
When asked about Dee, Drs. Becky & Scott Mann had this to say: "Dee is a very skilled optician, she is great at her profession. She also really connects deeply with people from the heart and takes care of our patients in a special way." We couldn't agree more!
So much of Dee's enthusiasm and love for her job is inspired by her patients. "You know when you have a good relationship when patients call you to make sure you're [in the office], or when they come in and remember from a year ago that my son was headed to South Korea. I truly care about every patient that walks into our office, whether they need an ear, a hug, or just someone to give them a minute of time and a smile," she said. "I have been able to develop remarkable relationships with our patients. Because of them, work isn't a job!"
As it were, her favorite part about her job is making her patients happy. "The smiles from patients, and the excitement when someone buys a really cool frame and they pick it up and just beam! It's incredible to put that first pair of glasses on a child and see the amazed look on their face! To give that low-vision patient an aid that helps them see just a little better than before."
When Dee isn't hard at work making our patients feel like part of our family, she's taking care of her own! "I have 6 grandbabies. 6 prides of joy!" she exclaimed. She visits them often. She also enjoys motorcycle rides with her  significant other, traveling, cooking, and crafting.
Dee's selfless nature and compassion for our patients make her a wonderful asset to our team. Thank you, Dee, for your dedication to your work and to our patients' health & style!