Meet Cynthia | A New Patient with a Flair for Fashion
Posted November 4, 2014
Our story is best told through the eyes of our patients…
Meet Cynthia
Why do you wear glasses? To see clearly? Sure! But there is more to it than that. The glasses you wear about to convey a message about who you are as an individual, so picking the pair that's just right for you is essential. For one of our patients, Cynthia, it is critical that her glasses convey her classy sophistication. Cynthia is a "C" level executive at  Polymer Solutions Incorporated, a high-tech chemical testing lab located in Blacksburg. When she isn't busy at work she can be found on the tennis court or chasing around one of her three grandchildren. She is sophisticated, fashionable, and a lot of fun! Cynthia is a person who lives her life intentionally and coming to Invision was no exception. "I came to Invision because a close friend told me they had a great selection of frames and that they would spend time with me making sure I picked the perfect pair of glasses," explained Cynthia. She continued, "They told me upfront that if they didn't think a pair of glasses looked good on me they would tell me—and that was awesome! I wanted their honesty and they gave it to me." Cynthia tried  on six pairs of glasses and ended up going to with a stunning pair of Kate Spade frames.
Dee Ratliffe has been with Invision for 13 years but has been in the eye wear business much longer, since 1976 to be exact! She worked with Cynthia to pick out that winning pair of frames and was extremely pleased with the transformation.  "If you look at Cynthia in her old pair of glasses compared to her new pair you will notice how the old frame was very flat across the top, which flattened her face," explained Dee. She continued, "The new frame we choose has some arch to it, which gave lift to her face and opened up her eyes. The old frame also washed her out because the color was light and blended in with her natural coloring. The color in her new frames brightens her face and lets you see just how beautiful she is."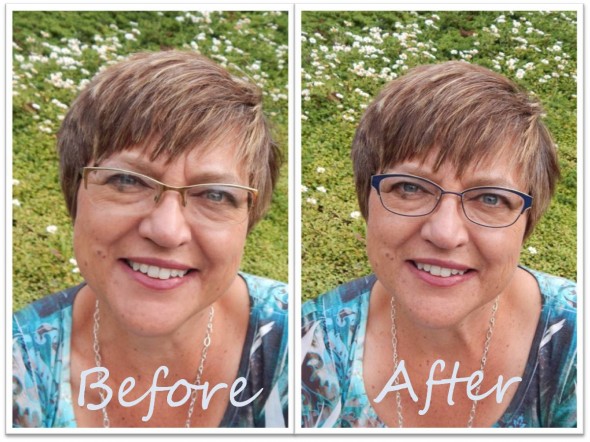 It is always great when the Invision team feels good about the pair of frames the patient selects but what matters most is how the patient feels about the glasses! We asked Cynthia about the transformation as well. We wanted to know what drew her towards the pair of Kate Spade frames she selected. She explained, "they were a little bit different but yet they had simplicity about them. The shape felt a bit retro and trendy, and I liked that a lot." Her excitement didn't stop there. The Invision team recommended she select lenses that are anti-glare. "For as long as I can remember I've either had to take my glasses off for pictures or just accept that there was going to be visible glare," said Cynthia. She continued, "Based on Dee's recommendation I no longer have to make that choice, I can leave my glasses on and not have to worry about glare in pictures."
So why was Cynthia's transformation such a success? Well, a few reasons. The honesty of Dee when providing feedback on the frames coupled with her years of experience selecting with eye wear was a factor. However, Cynthia also has a clear sense of style and was excited to find the perfect pair. Cynthia says it best, "I now understand that glasses are an accessory and can actually make me fashionable rather than being an afterthought. They can be an expression of who I am."
Well put Cynthia! And thank you for letting us help you find that perfect accessory!