Meet Caitlyn: A First Time Patient Having "One of Those Days"
Posted November 12, 2014
Our story is best told through the eyes of our patients…
Meet Caitlyn
Caitlyn was having one of those days where things weren't quite falling into place. She is a working mom of two beautiful little ones under the age of three. To say she has her hands full is an understatement. Moments before her first appointment with us her youngest was sent home from daycare with a fever. Caitlyn did the only thing she could; she brought her cute side kick along to her appointment.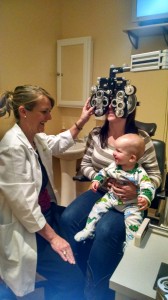 "I was so thankful the Invision staff was understanding and actually excited to see Peyton," explained Caitlyn. "Dr. Becky managed to do my entire eye exam while Peyton sat on my lap. I really needed the exam and was thankful they were so willing to work with us that day."
As the saying goes, "first impressions are everything" so we were curious what Caitlyn thought about her first visit with Invision—other than the fact that Invision loves a cuddly baby! "I never had anyone explain the various parts of my eye. Bobby Joe took the pictures of my eye and then explained them to me. I liked that education is a part of what they do."  She also added, "Dr. Becky was efficient and quick. Even though Peyton wasn't there to be seen she was good with him– he kept smiling and hamming it up throughout the entire appointment."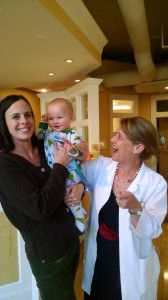 At Invision we want to make sure each patient is evaluated thoroughly and that they leave with the optimal solution for their eye care needs. For Caitlyn, this meant the discovery that her current contact prescription was too high. Dr. Becky also suggested a different kind of contact that offered more moisture for her eyes. Sleepless nights with two small children can have a drying effect; the new type of contacts with enhanced moisture gave Caitlyn a much more comfortable fit. Caitlyn emphasized the comfort of the new fit, "I had no idea what I was missing out on!"
All-in-all a trying day turned into a success for Caitlyn, Peyton, and the Invision team. We were able to get to know a new patient, hug a cuddly baby, and provide Caitlyn with an eye care solution that met her needs—winning all the way around!
Caitlyn, thank you for allowing us to care for you and Peyton! Please bring Peyton back any time—oh, and you can come back and visit us too (haha)