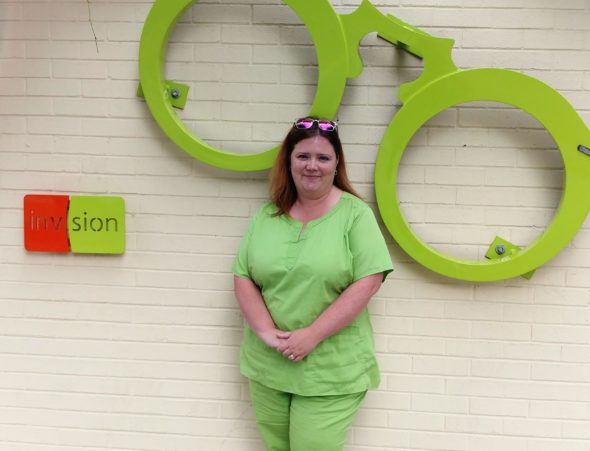 Meet Krista!
Posted September 20, 2018
If you've come into our Christiansburg office, you've probably been greeted by a few friendly faces, one of whom is Krista! Krista is one of our receptionists at Invision and she makes certain all of our patients have a great visit from the moment they step foot in the door.
Krista has been a steady presence on our team for 13 years. Her job is far more varied than simply greeting & answering phones, although that is an important part. A significant part of Krista's role is working with insurance. "I check all the coding for the insurance claims, file all our insurance claims, post all the insurance checks, handle all patient bills/accounts, and take care of all doctor insurance credentialing," she explained. It's thanks to her that handling insurance at our office is easy and painless!
With so many years at Invision, Krista has become a jack-of-all-trades for the team. "I can fill in as a doctor assistant when needed, and even make a few adjustments and minor repairs in optical," she said. "I have had my CPOC–Certified Paraoptometric Coder Certification–for insurance coding for about 4 years." Having a team member who can fill gaps where needed is truly invaluable. It's no surprise that her coworkers would describe her as "helpful, a team player, and the 'go to' for questions."
It's also no surprise that Krista's ideal day at work is "having enough time to balance patient interaction and back office work with ease." With so many hats she could wear, a day in which she can find the sweet spot between them all makes sense!
At Invision, family is important to us, and we like to think of our staff and our patients as part of our Invision family. For Krista, this rings true in her favorite part of this job: "helping patients optimize their insurance and still be able to see us," she said. She also loves seeing patients return year after year. "You really get attached to them!" she exclaimed. "I take pride in the fact that I know pretty much all our patients by name, so when they walk in I know exactly who they are and what they are coming in for."
Family is also important to Krista. Her motivation for success is to provide her family with the opportunities to explore extracurriculars and find their passions. And Krista hopes to be by their side as they do so, as both their coach and their greatest supporter. "When I'm not working, I love to watch my son, William, play baseball for his school and travel teams, watch my daughter, Anna, dance–and perform with her in the Nutcracker and Spring recitals–and be the assistant cheer coach for her rec team," she said. And in between all of that, she still finds time to spend with her husband, Joey.
Drs. Scott and Becky Mann are thankful to have Krista on the Invision team. "Becky and I love Krista and her family." Dr. Mann said. "She has a wealth of knowledge and goes about her work in a calm, efficient way. She has a peace about her that comes from within, that is evident to the people around her."
So next time you stop by our Christiansburg office, be sure to say hi to Krista at the front desk! If you compliment her pink sunglasses, or chat with her about The Wizard of Oz, you may earn an extra-big smile and a few brownie points.
Thank you, Krista, for all that you do for the Invision team!