A National Grant for a Local Charity
Posted November 2, 2016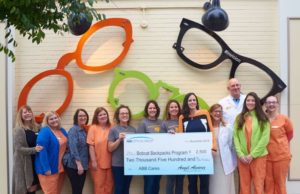 Today was a big day! Bobcat Backpacks Program received a check $2,500 from ABB Optical Group, thanks to the initiative of one of our very own.
ABB Optical Group is a leading distributor for optical products such as contact lenses. Their annual program, ABB Cares is, "designed to recognize outstanding community organizations, nominated by eye care professionals across the country!" One of our state-certified Opticians, Diana Grayson, saw the call for submissions and knew exactly which organization to nominate: The Bobcat Backpacks Program. Diana explained, "Bobcat Backpacks Program serves a vital need in the community and it is touching to see the remarkable impact they are making on families."
Out of 100 entries only seven were chosen, on of which was the Bobcat Backpacks Program! Other awards went to organizations in Texas, Florida, Chicago and California. It is quite an an honor for a national program to recognize the work being done locally by the Bobcat Backpack Program.
The Bobcat Backpacks Program (BBP) is a community-led weekend food program that provides healthy food for qualifying students during the school year through local food drives and donations. BBP not only feeds children but also removes a major hindrance to their education, hunger. At the end of the 2015-2016 school year over 42% of students within the Radford City School system were eligible to receive free or reduced meals. The BBP program provides 100 students with healthy food over the weekend and holidays. They have consistent need for volunteers and donations to their program. We encourage you to follow them on Facebook and consider how you might support the valuable work they are doing.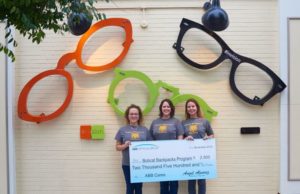 In order to nominate BBP, Diana had to fill out an online submission form in addition to gathering supporting documentation from Radford City School officials. In their support letters, school officials described a noticeable difference in the behavior of students at school when the hunger barrier is removed through BBP. They also indicated that students begin asking on Thursday if they'll be able to get their backpack of food for the weekend. Students depend on this incredible organization to have their basic needs met and we are thrilled to support them.
We are excited to partner with ABB Optical Group, a company that not only provides great optical products but genuinely cares about supporting organizations that are making an impact on their local community. We are also honored to support the Bobcat Backpacks Program, a group of people that loves our local community well.
Huge thanks to WSLS 10 for coming out to cover the presentation of the grant check! We encourage you to view the news clip!