To Serve & Love with Optometry
Posted November 1, 2016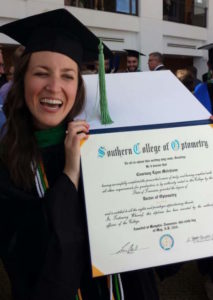 We are always inspired by people who have a heart for serving and loving others. The people that see beyond their own needs, wants, and desires and find a way to embrace the service of others. Courtney Melchione is one such person. She is about to embark on an incredible faith journey of providing eye care to underserved people in Guatemala.
While Courtney never imagined that she would some day be serving in Guatemala she did always dream of a career as an Optometrist. Her father was an excellent role model for what it could mean to live out that dream. He is a physical therapist and from an early age Courtney was struck by the impact his work had on the lives of his patients. As she grew, her interests continued to evolve and she developed a mentorship relationship with her eye doctor, Dr. Marc Hudson. Courtney explained, "The more I saw about his work and his relationships with patients, the more excited I became about pursuing the profession."  And pursue it she did! This past May, Courtney graduated from Southern College of Optometry as an Optometrist.
While many students obtain a degree and hope for an immediate and lucrative transition into the "real world," Courtney has chosen a different path. She is about to embark on an incredible faith adventure as an optometrist at the Guatemala Eye Clinic. At this clinic patients pay the United States equivalent of $2.00 to be examined. However, nobody is turned away because of his or her inability to pay. Courtney emphasized that an important aspect of the clinic is "to restore dignity to patients who have not had basic needs met." She continued, "One of the small but important ways the clinic does this is by offering all patients great quality, brand new frames for glasses."
For the two-year length of this position, Courtney will be the only staff member at the Guatemala Eye Clinic. This means that each day from 9:00-4:00 she is responsible for all aspects of the patients visit to include the work up of each patient, the exam and she will also assist patients with picking out their frames. Since Courtney is so people-focused and relationally driven this excites her. She isn't going to Guatemala to simply provide eye care, she is going to love others well.
For the first five weeks of Courtney's time in Guatemala she will be spending 4 hours a day continuing to develop her Spanish. Right now she describes her Spanish as, "functional but not fluent." She desires to communicate more effectively and in a more meaningful way with the patients she will serve.
Are you wondering why someone who could find a state-side job as an optometrist, and live a comfortable life in the process, would opt to travel to a third world country and work tirelessly for 2 years? Good question. It is because Courtney's priorities and outlook on life are rooted firmly in her faith foundation. She explained, "Jesus doesn't promote a prosperity gospel in which He promises people wealth when they believe in Him, but He does call His church to sacrifice to meet the needs of others." She knows that her personal sacrifice is for a lasting gain that is much bigger than her desire for comfort. In her words, she has been called, "to serve and love these people who have immense value to God."
Courtney has received tremendous support from all her friends and family. Over the summer they made sure to spend extra time together to include celebrating graduations, her brother's wedding, and the new cabin her parents just built.  She was also able to live with her sister's family and enjoy lots of time with her niece.
It's easy to become numb to all the suffering going on in the world. It's even easier to resolve that the needs are so big there's nothing much that any one person can do.
What can often become so over complicated is really quite simple in Courtney's mind. People matter and they have immense value to God. That is why Courtney is preparing to serve and love with optometry.
---
Many are wondering how they can support Courtney. Here are some practical ways you can cheer her on as she embarks on this adventure:
Share this post. Spread the word. Let others know of Courtney's faith adventure. It will not only encourage them but it will create a bigger cheering squad for Courtney
Check out the Guatemala Eye Clinic website and Facebook Page. They do need financial support to continue operating and meeting the needs of those in Guatemala. They also value interactions, "likes," and encouragement!
Pray for Courtney's safety, emotional and physical well-being. Pray that she is able to shine bright in Guatemala. Pray for Courtney's ability to overcome barriers—language, cultural, and even those created by limited resources.