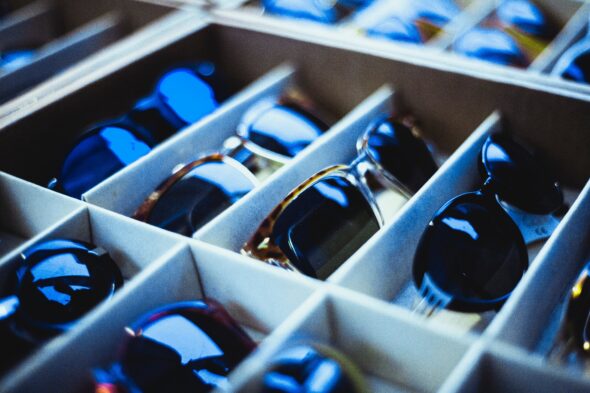 See, Style, and Shade This Summer
Posted June 15, 2020
Sunglasses are like shoes: a necessity that comes in many shapes and sizes and which should be fitted to the occasion. Our team can help you find a way to be comfortable and stylish while protecting your eyes from those nasty UV rays. If it's time to fit yourself with prescription sunglasses, we have some helpful tips for finding the perfect pair that will make your summer amazing.
Everyday pair
Everyone needs a pair of glasses that works for everything their day might throw at them. Try modern self-tinting lenses that respond to their environment with rapid-action technology and come in a dazzling array of colors. Since summer heat insists on lightweight apparel, make the most of a variety of rimless and titanium glasses. Plastic lenses, as well as plastic frames, and frames with flex technology, allow a cool experience. This is the time to be adventurous and try something new!
The right fit
Take a few moments to get refitted while you are browsing. And double-check the fit of any new pairs you purchase. No one needs their glasses sliding, fogging, or pinching them later on. 
Tough and safe
If you love summer sports, look into shatter-proof wear and ask about getting your lenses coated. This will make the lenses harder and more damage-resistant, while leading to an easy-to-clean, dirt-resistant pair of glasses that you don't have to worry about. 
UV contacts?
Yes, there are contact lenses with UV protection, but we would highly recommend continuing to wear your sunglasses. A contact lense only covers part of the cornea and the rest of it will be exposed to damage. This goes for trendy small sunglasses as well. Try to cover as much of your eye as possible.
How to shop (it's easy!)
Even though finding the right pair of sunglasses can feel overwhelming, jot down a few of the points below and you'll do fine. Or check out these 2020 trends.
Preferences.

Hate some brands, colors, or styles? Definitely want prescription shades? Your preferences will narrow down the endless choices.

Frames.

When considering frame styles, keep three things in mind: your face shape (try to find a shape opposite that of your face, such as square frames for a round face), what you need them for (wraparounds do well for sports, while streetwear/fashion can be your normal shape), and if you want prescription (curvy frames can be difficult to see through). 

Lenses.

A gray tint is great for color recognition; brown offers contrast enhancement; and dark green is a nice balance of the two. Remember to consider polarization if you are going to be on the water or driving for long periods of time. It will cut down on the reflected light.

Size.

Keep your head size in mind when browsing and also remember that the wraparound variety are sized differently from streetwear.

Price.

This depends completely on you. Price can affect quality, but every brand is different.
Anyone can grab a pair of dollar-store shades and then not worry if they are lost or crushed after a long summer day. However, if you want quality sunglasses that will protect your eyes, enhance your vision, and be comfortable the entire vacation, then shop smart and invest in a solid pair that will last. We have a wide variety of prescription glasses at both of our locations and helpful consultants that will be happy to walk you through the brands and styles. They will answer all your questions and make sure that you leave with a pair of sunglasses that will make this summer the best yet.