Staff Spotlight: Meet Mary
Posted October 9, 2015
Mary is one of those people you want to be around if you are having "one of those days" or need a quick pick-me-up. She embraces life and is quick to laugh, a true joy. Mary has also been part of our team for 13 years! When she began working in our Salem office it was as a doctor's assistant but for the last five years she has worked as one of our state-licensed opticians. We throughly enjoy having Mary as part of our team and hope you will enjoy getting to know her better. 
---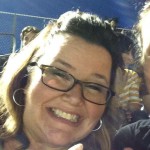 What about your job would surprise people?
The optical component is incredibly technical & detail orientated. That's what surprised me most once I made the switch from the doctor side to the optical side.
What is your favorite part of your job?
I love helping people pick the perfect frame & lenses for their lifestyles. Every single patient is different and has varying needs. Helping to match them with a beautiful frame & the right blend of products ensures they are successful in their everyday lives!
If someone played you in a movie or TV show who would it be and why?
While I would love to say Angelina Jolie, it would most likely be Melissa McCarthy – she never fails to crack me up!
Please tell me about your favorite pair of sunglasses or glasses.
I am the BIGGEST Maui Jim fan this side of Hawaii! The amount of Maui Jim glasses I have is a bit obscene. I do have one pair of another brand, but it tends to sit idly by on the sidelines while I happily sport my Maui Jims.
What do you love most about the Roanoke Valley?
I'm a Salem girl to the bone! (Be careful or I'll start singing our school fight song) I think this area is the most beautiful part of Virginia. The natural beauty never ceases to amaze me.
What do you do for fun?
I love astronomy – I am a card-carrying member of our local astronomy club. I could stargaze for hours. And no interview would be complete without a mention of my beloved MINI Cooper, Pippa….yes, she has a name! I'm a member of the SWVA Mini Cooper group. To line up in a MINI parade (Italian Job style) alongside my fellow Miniacs is a feeling like no other!
What is something few people know about you? 
I've been interested in other cultures & languages, specifically Eastern European nations, for a long time. For several years, I taught English as a Second Language to refugees resettled here in Roanoke. Mainly, I worked with Bosnian refugees and that is where I fell in love with all things Eastern European. That love has even seen me through on a mission trip to Ukraine and rekindled my faith in Christ.