Invision Inspired by Art
Posted September 14, 2015
If you know anything about the Invision team it's likely you know we fully embrace eyewear as a fashion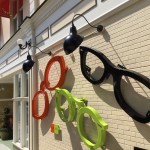 statement. We also embrace eyewear as a channel for artistic expression. Our Christiansburg, Virginia office just received a makeover to the exterior of our building featuring larger-than-life metal sculptures of iconic eyewear frames.
This project was initiated in January 2015 and took nine months to complete. The idea was first inspired when Dr. Scott Mann realized the sign on the outside of the Christiansburg office had been weathered and needed replacing. Drs. Becky & Scott have been greatly inspired and influenced by art and architecture when they travel. They decided that instead of replacing the sign with an exact replica of what was previously there, they wanted to do something cool, funky, and different—something that embodied Invision.
The Christiansburg office is a renovated store & warehouse space with 15 foot ceilings and vintage oak floors. It has a second floor balcony that opens to a skylight 35 feet high that floods the space with natural light. Dr. Scott said that one goal of the project was "to reflect some the interior character of the space on the exterior of the building. The timing was perfect as the project coincided with a complete remodel and facelift on the Main Street front of Old Town Mall."
In the early days of the project Drs. Becky and Scott Mann surrounded themselves with quite an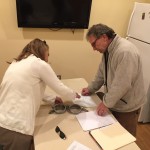 impressive team as they began this artistic journey. Aaron Forrester, a long-time friend and well-known local photographer and graphic designer joined the meeting as well as their son, Michael Mann, who has a really fresh sense of style. This dream team paired up with a very accomplished local artist, long-time patient, and friend, Dave Wertz. Out of this initial meeting at Dave's studio in Roanoke came the idea to create a series of three timeless, iconic frame styles to replace the sign.
If you have ever been to the Center in the Square in downtown Roanoke you have seen Dave's work. He crafted the six-foot tall jellyfish sculpture, a seahorse, and a series of fish that are all prominently displayed. He also crafted an abstract sculpture that is found outside The Rescue Mission in Roanoke. This project with our team was a long time coming, explained Dave, "when they opened the new Salem office Scott asked me to make door pulls for the front doors, it was a fun project." He continued, "He always said we were going to do something big together one day. Last winter he came to me and said he was ready to do something big." Dr. Scott said that partnering with Dave was an obvious choice, "We wanted an artistic feel to the project and we wanted to keep it local and authentic. Dave does really cool metal work and I always hoped to work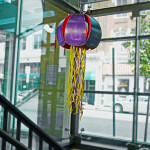 on another project with him. He is a creative artist with a great sense of style and proportion."
We learned that our request for Dave to craft larger-than-life glasses was a challenging one, but a challenge he was ready for. Dave explained, "glasses are hard because you have to make two components that are identical but mirror imaged. Any time you have to sculpt two identical things from metal it is a significant challenge." The challenge extended beyond that, he continued, "It is also a challenge to make something that looks realistic but is larger than life."
The three frame styles that the sculptures represent are Wayfarer, Cat-Eye, and John Lennon styled frames. There is also metal "bling" in the corner of each pair so that people can easily tell these sculptures are metal and because we love fashionable and unique details. It may surprise you to know that each one of these sculptures is roughly 100 pounds. They are mounted to the wall with six threaded rods that go a foot deep into the wall and are epoxied in place.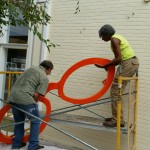 From Dave's perspective this project presented an opportunity to stretch himself as an artist as well as better the community. "Drs. Scott and Becky elected to do something that was extremely artistic that added so much value to their building, their business, and all the other businesses up and down the street. It makes people think "wow!" and when they get that "wow" factor they will wonder what else is on the street, what else is in the community, and what kind of people would live in this community and do such a thing." Dr. Scott added, "The Town of Christiansburg was great to work with on this project."
We are thrilled with the beautiful sculptures that so perfectly represent us and hope that these glasses are loved by our patients, our community, and visitors to our area.  We also hope that they will give a fun and fresh facelift to the downtown Christiansburg scene and encourage continued growth and development to our home we love so dearly.
We invite you to stop by, take a look, and let us know what you think.