Have a Heart | $1 Vision Screening
Posted February 4, 2017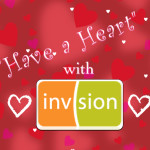 It's that time of year again! Time for cards with sweet sayings, lots of chocolate, flowers, and Invision's "Have A Heart"  Vision Screening. It is taking place at our Christiansburg office this Saturday February 11th from 9:00am to 1:00pm.
Each year we host this Valentine event in order to provide our community a fast, fun vision screening done by Dr. Becky or Dr Scott.  This heart-themed event is open to current and new patients alike.
You are welcome to call and make an appointment at 381-2020 or just show up if that suits your schedule better.
There is a Facebook Event we encourage you to share with friends and family. We want as many of you sweethearts to celebrate hearts and vision with us.   We suggest a $1 donation for each screening of which we match and donate completely to the American Heart Association.
Curious why eye doctors are supporting a cardiovascular cause?
According to the Center for Disease Control Cardiovascular disease (CVD)— heart disease is the leading killer of women and men in the United States. Hypertension, or high blood pressure, is a risk factor for heart problems such as heart attacks and strokes. Dr. Becky notes "Eye doctors recognize that hypertension is risk factor for many vision threatening eye diseases, including blockages of blood vessels inside the eye." Heart disease impacts so many lives and also has a connection to eye health. It is imperative we all work together to educate ourselves about the risk factors for heart disease and take steps to lessen our own personal risks.
We hope you and your Valentine will join us on February 11th!