Eric was tired of being told "no"
Posted May 20, 2015
Let's be honest, none of us like to be told no. One of our patients, Eric, came to us when he was tired of hearing exactly that. Eric was in search of a very specific and special type of prescription sunglasses and we were the only ones in the area able to help him.
To understand the predicament Eric faced it helps to know a bit more about him, as understanding the context of eyewear is crucial for a great solution. Eric is an avid baseball fan and has been a bookkeeper for local baseball games for years. It is quite a task! The print in the books is extremely small because of all the intricate details that must be kept. Crisp eye site and protection from the bright sun are both key to doing this job comfortably and effectively.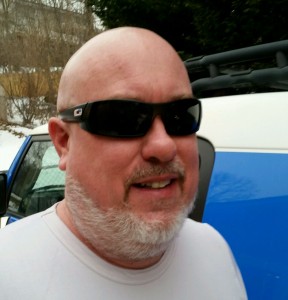 As Eric has aged, his vision has worsened little bits at a time, which is quite normal. Most recently he joined the "progressive lens club" and worked with Dr. Scott to get his first pair of these specialty lenses. "The print in the books has to be extremely small because of the details that have to be kept, every pitch of every play. I was constantly taking my glasses off to write in the book," explained Eric. It wasn't particularly challenging for Eric to get progressive lenses in his regular glasses but that only provided half of the solution he required—he needed progressive lenses in his sunglasses to fight the bright sun out on the baseball fields.
Eric's mind was made up that he wanted progressive lenses in a particular pair of Oakleys. "They are Oakley Gascans. The style has been out for several years but everyone I had spoken with had told me there is too much wrap around to it for my eye site. That was complicated even further when I went in and had my first pair of progressive lenses," Eric told us. He checked with various local optometry labs to look into this specialty pair of frames—most told him it wasn't possible to do, one lab said it was possible but would cost around $1,000 for the specialty lenses. Eric got to the point where he was going to return the Oakleys and throw in the towel. "Before I decided to take the Oakley's back I stopped into Invision and saw Diana, I told her I was tired of hearing 'no'," said Eric. Diana told Eric "yes" and said that she would find a way to make the custom lenses work—and she was true to her word. She was able to get custom progressive lenses made for his Oakleys glasses, allowing him to more comfortably fulfill his duties as a bookkeeper at ball games.
When reflecting on the end result Eric made sure to give credit where credit was due. "Make sure Diana gets a real attaboy…she said she could do it and she got it done," said Eric.
Well done, Diana! Thanks for finally being the one to say "yes" to Eric and make his Oakley's with a wrapped progressive lens a possibility.
Eric, thanks for trusting your eye care to us and with this challenge. Enjoy them and there's only one thing left to say, play ball;)