Adison Refuses to Let Vision Impairment Steal the Spring in Her FLIP
Posted April 2, 2015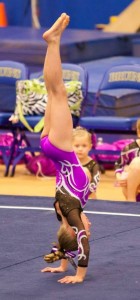 Often times our favorite patients at Invision happen to also be some of our youngest. We first saw Adison when she was only 3 years old. Her parents noticed that one of her eyes was crossing inward and took her to a specialist for help with this problem. When they met with the specialist they discovered that Adison was nearly blind in one eye and had severe vision impairment in her better eye.  Adison could see shapes and movement but very little visual detail otherwise.
Adison's mom, Ame, can still recall the first appointment Adison had with the Invision team. She explains, "Dee and Diana went out of their way to get the best fit of glasses for Adison and lenses for her that didn't resemble coke bottles. They really wanted to make sure that she looked as cute as possible and that I would be happy." That first pair of glasses introduced a whole new world to Adison. Ame can still remember that magical moment when Adison saw a lightning bug for the first time; she simply sums it up as, "the best."
Fast-forward five years from that initial appointment and Adison has grown into an energetic 8 year old with a love for gymnastics. Not only does she love it, she has a natural affinity for it and a work ethic to match. In fact, she is now competing on the USAG level 3 team with Virginia Techniques. This hobby and talent of Adison's presented a new era of vision challenges. Any time she would attempt a technique that required her to be upside down she either lost her glasses and they often became bent or broken. Not to mention, it immediately rendered Adison unable to see, which is frightening. Ame realized that they needed to figure out a solution when it became clear Adison was not trying new techniques because she was scared of not having her glasses. It was time for another trip back to Invision.
Adison saw Dr. Becky and they began to process of getting her contacts.  There are many adults that struggle to learn and master the proper way to put in contacts and care for them. However, Adison worked closely with Bobbi Jo and mastered the necessary skills in 20 minutes, it was truly remarkable. With the confidence of clear vision Adison was finally able to master a round off back handspring alone! She is also well on her way to mastering a back tuck by herself.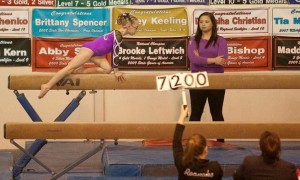 We love having the opportunity to be part of Adison's journey. Helping her see clearly, or pick out cute purple glasses (purple is her favorite!), or even finding glasses straps to match her performance leotards has been a joy for us. Adison's dedication to gymnastics as well as her resolve to overcome the vision challenges she faces is inspiring.
Keep up the good work, Adison! And please know, the entire Invision team is cheering you on!