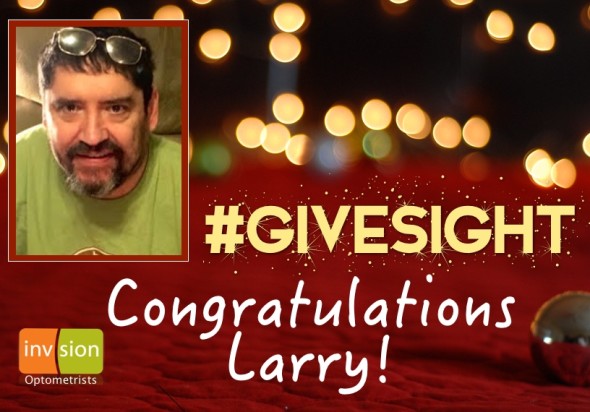 Give the Gift of Sight Winner: Larry!
Posted January 22, 2016
We decided that we wanted to end 2015 in an exciting way that celebrated people and focuses on doing good for others. We
launched a "Give Sight" contest and shared it with our patients, social media followers, and friends. The intent of this contest was to identify people within our community that have been through hard times, inspire overs, or have overcome adversity. Then, with the help of the Facebook community we selected a winner to receive a pair of free designer glasses. We are thrilled to announce that Larry is the winner and share his story with you!
In a week's time Larry accumulated over 1,000 votes on Facebook, which were cast from three different continents—North America, Europe, and Africa! His sister, Lisa, was the person that nominated Larry for the contest. She explained in the entry form that Larry has multiple sclerosis (MS), a degenerative health condition.
The National MS society explains that MS is, "an unpredictable, often disabling disease of the central nervous system that disrupts the flow of information within the brain, and between the brain and body." The realities of multiple sclerosis are harsh. Larry explained to us, "years ago I used to be an award winning artist but I can no long paint because the MS doesn't only effect my vision it also effects my hands. I can barely even write my name to where it is readable at this point." Over a twenty-year period Larry went from walking with a limp, to requiring a cane, and now using a wheel chair. Larry felt it was very important that everyone understands MS effects each person differently He explained, "A lot of people think "I know someone with MS this must be how it effects you" but that is not at all the case.
In Lisa's nomination form she also explained that in spite of Larry's hardships and physical limitations he consistently encourages others. She specifically noted that regardless of circumstances he "gives thanks to God for all of his blessings in his life." This should inspire each of us to take a step back from our troubles to appreciate the goodness that surrounds us each and every day. We found this to be true when we spoke with Larry.
When asked about his reaction to being nominated, selected as a finalist, and then announced as the winner of the contest Larry said, "I felt very blessed by the contest and the outcome of the contest." If you talk to Larry for any length of time you will quickly pick up on his love for others. He was born and raised in Montgomery County and still has a lot of family in the area. In fact, he has three siblings that he has always been close with and still gets to see on a regular basis.
Are you curious about Larry's glasses that he selected? The frames were classic and timeless and and the lenses were a digital, freeform design progressive lens. This will allow him to have more precise vision with less distortion in the peripheral. We also paired this up with a super hydrophobic anti-glare treatment to reduce glare. These glasses will give Larry much crisper vision in a variety of situations.
Thank you for joining us in our effort to do good for a special person within our local community. The reality is, these glasses were a gift from each and every one of you that took time to vote, share the contest information, and support Larry. It is truly a privilege to be part of such a supportive and generous community.