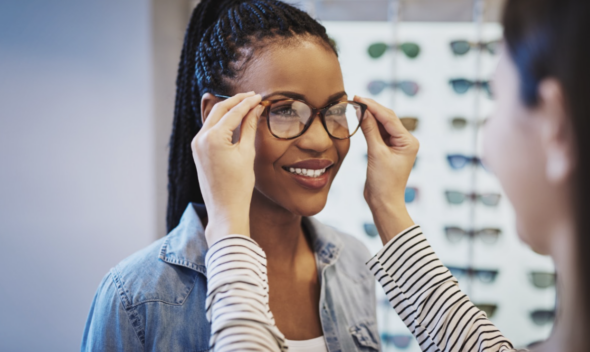 How to Choose the Right Glasses According to Your Face Shape
Posted November 18, 2021
How to Choose the Right Glasses According to Your Face Shape
Picking out the perfect pair of glasses can be hard. There are so many colors and shapes, it can get overwhelming. It can be helpful to look at your face shape as a guiding force as to which frames to try on and consider. 
If you don't know your face shape, go in front of a mirror and pull your hair back. Make a point of how wide your forehead and jawline are, and how they are in proportion to the rest of your face. Continue reading to find out which frames suit your face!
Face Shape: Oval
An oval face starts slightly narrow at the forehead with high and wide cheekbones. If your face is longer than it is wide and lacks sharp features, it is most likely that your face is oval.
Due to the generally proportionate nature of an oval face shape, most frames work. Lucky you! To maintain the natural balance of your face, go for frames that are as wide, or wider, than the broadest part of your face.
Face Shape: Heart
A heart shaped face has a wider forehead and high cheekbones that narrows as you go lower down towards your chin. If you have a heart shaped face, go for simple frames that are not too bold or extravagant. 
Clear or wire frames are also a good idea because they give an airy feel to your face. Stay away from something too thick or bold towards the top to try and restore balance, assuring it doesn't overpower or imbalance your face. 
Face Shape: Square
A square shaped face has both a broad forehead and jawline. People with square face shapes have strong, angular features that are, generally, as wide as they are long.
Round frames work to soften and elongate square face shapes. Frames that sit higher up your face also help elongate your face.
Face Shape: Round
Round face shapes are as wide as they are long, and typically have softer features. To counter the roundness, go for more angular frames to give your face some length. Try to stay away from petite frames that could end up hiding your features and making your face look larger than it truly is. 
These are all tips to help you choose a pair of glasses you will love. They are not rules and regulations used to limit you to what glasses you should buy. What's most important is that you love your frames and that you feel your best in them. If you're still lost, make an appointment to come in and our team can help you find your forever frames in person!