"Have a Heart" $1 Vision Screenings
Posted February 6, 2015
Invision Offers $1 Vision Screenings & Supports the American Heart Association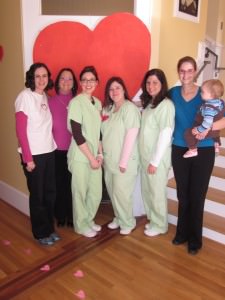 Invision is celebrating Valentine's Day by sharing the love. On Saturday February 14th from 9 am to 1 pm optometrists Drs Becky and Scott Mann are offering $1 vision screenings at the Christiansburg office. Dr. Becky explains,"Many children & adults have have poor vision and just don't know or don't accept it.  We decided to offer  "Have A Heart Vision Screenings" to provide a simple and easy way to for all to know if their vision is up to par."
The giving doesn't stop there; the $1 for each screening goes directly to the American Heart Association.  Sweethearts of all ages are invited to take part in this event, whether they are current patients or not. These vision screens are a fast and fun way to be reassured that your vision is good—they are Invision's Valentine's gift to the community. This event has become an annual way that Invision is able to give back.
The Invision team wants patients to have healthy eyes and wonderful vision but they also hope patients have an understanding of how to keep their entire body as healthy as possible. According to the Center for Disease Control Cardiovascular disease (CVD)— heart disease is the leading killer of women and men in the United States.  This disease impacts so many lives therefore it is important to understand risk factors and ways to mitigate those risk factors. In addition to providing free vision screenings we will have information about how to be heart healthy.
This event is something that the Invision Team throws each year. We are excited to support the
American Heart Association and hope to see you at this year's Have a Heart event!
*Appointments are helpful but not necessary. Call 381-2020 to set up
an appointment.