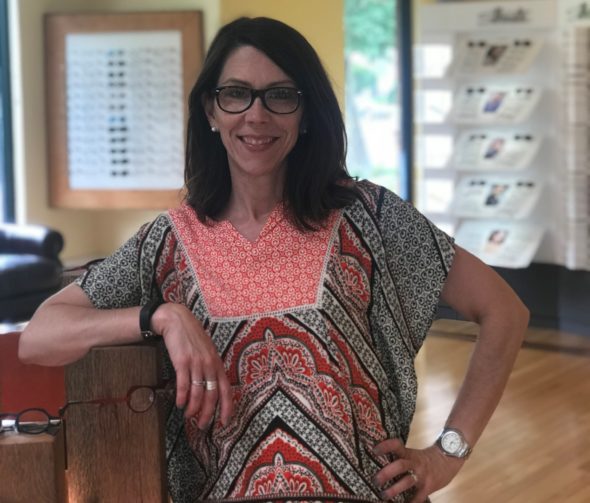 Meet Lisa Clark!
Posted June 13, 2018
When Lisa Clark asked her fellow opticians at Invision's Salem office what words describe her, they said: helpful, supportive, jovial, Snow White ("I may feed and talk to squirrels on my lunch break," she explained), problem-solver, fun, dependable, and Yoda. For that last one, she said she hoped it was because of her wisdom and not because she's green & wrinkly.
The words her team chose, and her hilarious commentary on them, speak to Lisa's presence in the office. Incredibly supportive & team-focused, with a heavy dose of humor, Lisa is an irreplaceable member of the Invision family.   
Being an optician, in the simplest sense, is about fitting, making, and fixing glasses. Lisa describes her job as being part problem-solver & part magician. "70% of the job is troubleshooting," she explains. "It's about finding the fix that will make the patient happy." Whether it's a frame adjustment, educating patients about their lenses, or fixing "glasses that have been literally run over by a truck," her job is all about working to solve whatever problems the patient has. And from the perspective of the patients: "They think it's magic, that we can take a pair of frames so messed up into the back room and come back out with them looking good as new."
Lisa likes to say that she didn't choose opticianry, but opticianry chose her. In fact, she hadn't known how important opticians were until she befriended an optician while working as a cashier at a Sam's Clubs in her early 20s. When her manager asked if she wanted to get out of retail and work directly with the glasses, Lisa jumped at the opportunity. "It's funny, the opticians who trained me had been doing this for thirty years and I thought 'there's no way I'll be in this business for that long.' And yet here I am,  25 years in the business, training opticians myself, and I love it."
After working as an optician at Sears, she found her way to Invision. "When I started at Invision, I felt like I was able to spread my wings as an optician," she said. "I had access to more resources, more tools, and far more flexibility with what frames & lenses we get. I was able to be the optician I wanted to be, and not the optician corporate wanted me to be."
We asked Lisa why she comes to work every day, and she said, "because I asked my husband if I could be a stay-at-home dog mom and he laughed." She laughed as well. "But in all seriousness, I come to work to help others. Patients depend on me, doctors depend on me, and my coworkers depend on me."
Lisa describes the team of opticians at Invision Salem as a family. "A little dysfunctional at times, but a family." "This place gives you a good sense and feeling of what teamwork should be," Lisa said. Her job can be stressful, as any job can be, but she emphasized that the team is always there to check in on her, back her up if need be, and make her smile.
"Having fun is key!" she said. "We like to keep it light, both among ourselves and with our patients. We want them to feel like we're the lucky ones because they picked Invision opticians instead of going elsewhere."
While we were talking in her office, we could hear the other opticians and staff laughing. "I think they were just shouting 'Yas Queen,'" she laughed. "They've been talking like Elmo all day today, too." The sound even carried through the closed door, "so you know they're having a good time."
Apart from the fabulous team of opticians, Lisa finds joy in her work because of its impact on others. "When you put a pair of glasses on someone and they are literally seeing for the first time…that's incredible. Putting a pair on a young child and they see me and their family for the first time? I'm done," she said. "Or when glasses allow an elder to start sewing or doing crosswords again, or when a nervous teen comes in and realizes that she's just as beautiful with glasses as she was without. I'm tearing up just thinking about it." Moments like those are why Lisa has been in this business for almost 25 years.
When we started interviewing Lisa, she told us that this made her incredibly nervous. "I'm really shy," she explained. "No one here would believe me if I told them that, but I'm very shy. Once I'm comfortable, though, I let my freak side fly." Lisa's willingness to be vulnerable and open during this interview speaks to her compassion and love for the Invision family; even if it pushes her out of her comfort zone, she's ready to help whenever and wherever she can.
We love Lisa, and greatly appreciate every side of her here at Invision. Thanks for all you do for our Salem office and our team!