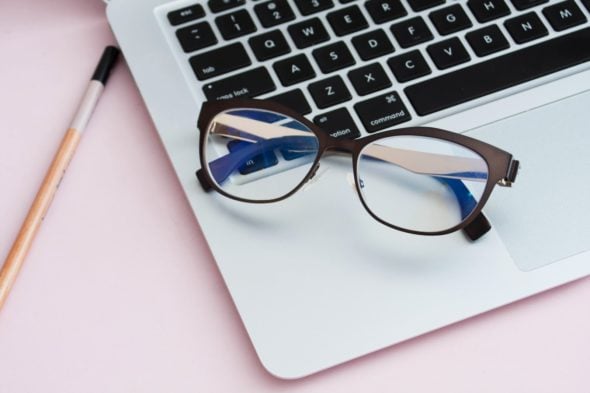 Why You Should Invest in Quality Eyewear
Posted March 14, 2018
Buying a new pair of eyeglasses can be a tricky task. Do you go for stylish black, bold color, or funky patterns? Thick or thin frames? Square or round or something in-between? Amid all the style choices, thinking about quality may get lost in the shuffle. Buying frames of good quality, however, is just as important as fitting your personal style.
So why does quality matter? Like with all products, the higher the quality, the longer the life. High-quality glasses will last much longer than a cheap pair, because their frames are made from better materials. Stainless steel, titanium, and zyl (a type of lightweight plastic) are common materials for high-quality glasses; there are also more exotic materials like wood or horn that are considered high-quality as well. These materials not only look better, but perform better. Designer glasses tend to have sturdier hinges with multiple reinforcement points, which helps the frame hold its adjustments and hold better against everyday wear and tear.
Generic brand glasses are made of flimsier materials, such as inferior metals or low-quality plastics. Inferior metals, like nickel, can cause skin irritation and may bend more easily, making it impossible to keep them well-adjusted to your nose & ears. Inferior metals often break at solder points (where two pieces are welded together,) breaking the glasses in half across the bridge of the nose. Low-quality plastics break more easily, too: the hinges can come apart, or they can shatter from impact or weight. They're more likely to suffer abrasions and discoloration as well, making them uncomfortable to wear.
Low-quality glasses aren't only prone to damage, breaks, or bends; they also tend to have poor warranties. So when they inevitably break, you're stuck paying for a whole new pair. Quality glasses tend to come with better warranties. So in the event that they break, bend, or no longer fit properly, you can have them fixed or replaced without any extra costs.
When paying for quality glasses, you're also paying for quality lenses. High-quality glasses usually come with all the suggested coatings–UV protections, scratch-resistance, anti-glare. Low-quality lenses, which are often plastic, either forgo those benefits all together or offer outdated and poor quality coatings that peel off. In the case of transition lenses–lenses that darken in the sunlight to become sunglasses–poor quality can mean that your lenses do not transition in the correct light, or transition too slowly, obstructing your vision instead of aiding it.
It should also be mentioned that, while quality is in part about comfort and effectiveness, it's also about aesthetic quality. Top designer glasses look better. They follow the current trends (and in some cases, like theo, are trend-setting) and will be designed for a better fit. Low-quality metals & plastics are visibly different than high-quality metals & plastics as well.
So if you want to look your best and see your best, remember that quality is key. High-quality glasses will cost more, but they are better designed for both fashion and function. We want all our clients to leave looking fierce, fabulous, and seeing clearly, which is why we only carry quality frames and have an in-house optical lab. Don't leave your style and eyesight dependent on low-quality eyeglasses; you, and your eyes, deserve the best.